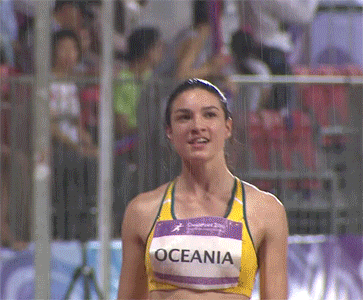 Sexy Australian track & field hurdler Michelle Jenneke is driving men across the world insane once again. This time with her 'Get Jiggy with It Shimmy Bobbie Shake' before a recent competition in the rain.
Jenneke rose to fame earlier this year when a video of her jumping, shaking, dancing before the 2012 World Junior Championships went viral on You Tube.  Since then the video has been seen over 18 million times.
You can make that 18,000,001x below:
Men across the world have been desolate of sexy female athletes since Anna Kournikova settled with with Enrique Iglesias.
On to the next episode…
Follow
Joshua Holmes
on Twitter
@Bayou
or Bumpshack
@Bumpshack
Related Posts